April 29th, 2015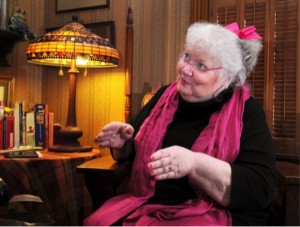 Who better to write a book titled "Drama Teacher's Survival Guide" than Sentinel High School legend Margaret Johnson, who taught drama at the school for 37 years.
"The Drama Teacher's Survival Guide 2" is available at Missoula, Montana's Fact & Fiction bookstore factandfiction@montanabookstore.com,  Amazon.com,  or by going to www.Pioneer Drama Service.
Two generations of students from Margaret Johnson's drama program at Sentinel High School know well the aches and agonies of a high-school drama teacher.
They're probably still ringing in their ears.
"Yeah, I was a terror sometimes," said Johnson, the icon of the Sentinel drama department, which she led for 37 years before retiring in 2000. The school's theater now bears her name.
No longer a terror, but always a motivator and inspiration to her students, Johnson is now an established author with the publishing of her second book, "The Drama Teacher's Survival Guide 2," just released by Meriwether Publishing of Colorado Springs, Colo.
Johnson's book is a follow-up to her freshman effort of the same name, which has sold more than 5,000 copies nationwide. In the new book, its pages are lessons in mime, memorization, motivation, monologues, music and even a little mayhem – techniques for pulling off a believable fistfight or other forms of combat. But in general, she hopes to diminish those aches and agonies, which every drama teacher knows, and make the task of putting on a show much more rewarding for teachers and students – high school or otherwise.
"What I really wanted to do was to share," said Johnson, who along with longtime University of Montana vocal teacher Esther England, was inducted into what is essentially the UM Fine Arts hall of fame in 2007. "I had all this experience and I had been relatively successful at it. I thought, 'Maybe I could write a book.' You get pretty lost as a retired teacher, so I worked with student teachers and I worked on these booka."
Her first book was published in 2007, and served as a bare-bones, cut-to-the-chase guide for young drama teachers. She described it as a book outlining "the things you need to do, step by step," for drama teachers at the beginning of a career or school year.
"In the first book, I was really strict on organization," she said. "You have to be organized to do theater. This book is not that way. For instance, there is a chapter on how to write. And the first chapter deals with how to get to know your students."
"I was really proud of it," she said, "but it was really a how-to book."
"Survival Guide 2" is more reflective of Johnson's humor and playfulness, and includes information on how to warm up a cast or untie a twisted tongue.
"This book has my heart in it," she said. "I just wrote what I felt. I tried to be honest. First and foremost is honesty. Don't paint a glorious picture if there's no glorious picture to be painted."
In her introduction to the book, Johnson writes that students must be made to feel safe and supported in the difficult task of performing live theater.
"I really feel that in order to do good teaching, you have to have a safe environment," she said. "Students have to feel comfortable, particularly in theater, because they're risking a lot. We're asking them to do a variety of things and silly things."
Johnson has been doing those "silly things" – and lots of serious things – since being exposed to drama as a high school student in Glasgow, Montana. After high school, she attended Macalester College, a small liberal arts school in St. Paul, Minnesota. She then applied for – and got – her one and only job as drama teacher at what was then called Missoula County High School (now Sentinel).
She hopes this new book serves as a sort of "Chicken Soup" book for the drama teacher's soul, as well as an inspiration for students.
"I hope that teachers will look at it and learn something, if only in the introduction," she said. "Create a safe environment for students. And don't sell your kids short. Let them shine."
-Jamie Kelley for The Missoulian